What should you feed your Persian Cat?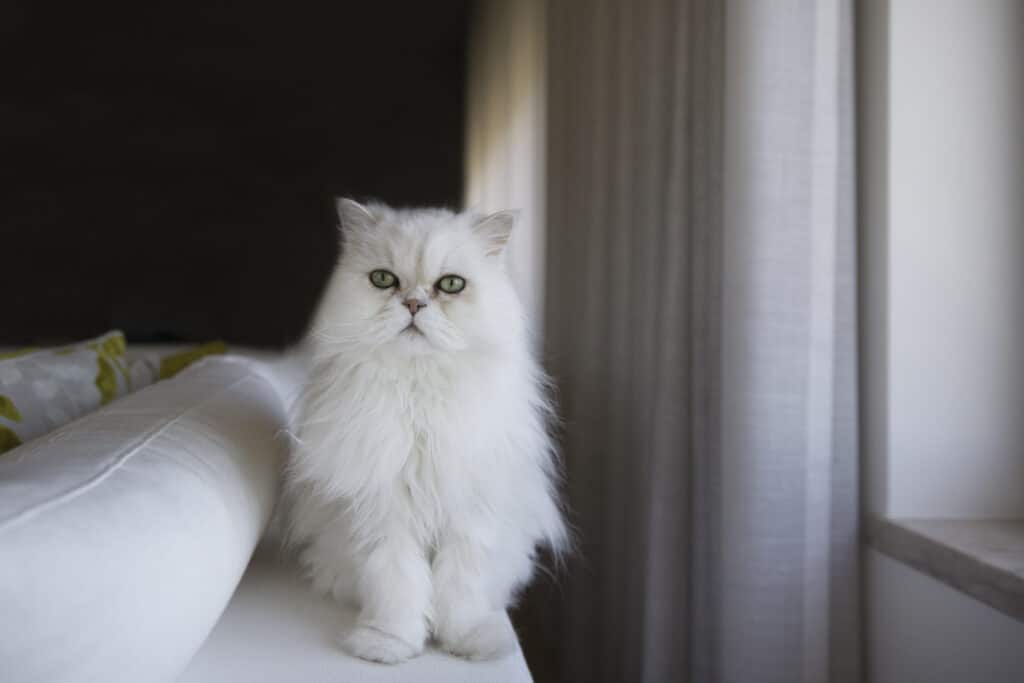 The ultimate glamour puss, Persians are one of the oldest cat breeds. The Persian cat is a quiet and largely docile cat that enjoys the companionship of humans, although they can be independent and selective in who they show their affection to.
With distinct features such as a round face, large eyes and curved ears, they are highly intelligent with a sweet and gentle nature. Persians are the perfect breed of cat for those who want a laid-back and affectionate pet.
Along with the daily grooming requirements, selecting the best food for a Persian cat helps to support your kitty to be happy, healthy and strong. A good recipe will have a high meat content, including fresh or raw ingredients, a selection of quality animal proteins sourced from known and trusted suppliers and a taste that your cat will love.
What is the best cat food for Persian cats?
The best food for a Persian cat should provide all the goodness and nutrition they require and a taste they will love; without the need for long lists of synthetic supplements.
That's why ORIJEN features:
85% quality animal ingredients | unmatched by any other dry foods and about three times more than conventional cat foods, ORIJEN's rich meat inclusions nourish the way nature intended.
38-44% protein | ORIJEN is rich in protein and quality animal ingredients, making our foods entirely biologically appropriate.
WholePrey | ORIJEN incorporates meat, organs, and cartilage or bone in ratios that mimic Mother Nature, creating a powerhouse of nutritional goodness.
Freeze-dried liver for a taste to tempt even the fussiest of felines
The best dry cat food for Persian cats
The best dry food for Persian cats from ORIJEN's range can be found below:
The best cat food for Persian kittens
Here you can find ORIJEN's range of recommended food for Persian kittens:
Why does the right cat food matter for Persians?
Choosing the best food for a Persian cat is an important decision. With their long, luxurious coats and short sturdy bodies, you will be searching for a food that will support their skin and coat and help to maintain a healthy weight and lean powerful muscles.
All cats and kittens possess a biological need for animal protein. Although they may look quite different, your Persian is descended from the Near Eastern wildcat, so they have evolved to require a diet that is rich in animal ingredients in order to maintain peak health.
ORIJEN Cat recipes contain richly nourishing protein from free-run, wild-caught and cage-free animal sources. Two-thirds of our animal ingredients are FRESH or RAW, for a concentrated source of protein. By mimicking the diet your cat's ancestors would have hunted and eaten in the wild, we use the whole prey animals, including meat, organs, cartilage, and bone. This provides the best food for your Persian cat and gives them everything they need in order to stay happy, healthy, and strong.
Why your Persian Cat should have a biologically appropriate diet
Our biologically appropriate philosophy is simple: mirror the quantity, freshness, and variety of meat that cats have evolved to eat. Despite years of breeding, the internal workings and anatomical capabilities of domestic cats remain the same as their wild cousins, so it's no surprise their food requirements remain the same too.
Just like their wild cousins, modern dogs and cats are equipped with sharp teeth, a short digestive tract, and a body evolved to metabolise meat. Biologically appropriate ORIJEN mirrors the evolutionary diet, nourishing your Persian cat as nature intended, with unmatched fresh and raw meat inclusions plus smaller amounts of fresh whole vegetables, fruit, and botanicals. A biologically appropriate diet ensures that you have a happy, healthy cat.
How to keep your Persian Cat healthy
Although a highly popular breed, Persian cats are prone to health problems. Almost two-thirds of Persian cats suffer from at least one health condition, according to the largest study of the breed by the Royal Veterinary College.
The study found that:
The most common specific disorders were haircoat disorder (12.7%), dental disease (11.3%), overgrown nails (7.2%) and eye discharge (5.8%).
Dental disease was more common in males, while claw/nail problems were more common in females.
The average adult body weight of a Persian cat was 3.9 kg.
Source: RVC
Regular grooming sessions and veterinary check-ups will help to keep on top of problems such as overgrown nails and dental issues. To promote and maintain peak health, all cats require a diet that is rich in quality animal protein. Give your Persian a delicious ORIJEN meal that has the protein and nutrients they need.